Written on Tuesday, July 11th, 2017
Welcome to the first release day of the Craftin' Desert Divas July Release! All of the items are available in the shop and any orders placed between now and the 15th get a nice little goodie from Tara in it! Place your orders early as there will be NO shipping from 7/13/17 through 7/19/17. Shipping will resume on 7/20/17.
For my card today, I decided to show how you can use the Island dies without ink blending and just use patterned paper! This is a neat idea to make your cards go a LOT faster!
I used the new Island Dies and cut out patterned paper from the Doodlebug Fun in the Sun 6×6 paper pad. I also cut out a couple of strips from the paper as well to add some visual interest at the bottom. To set some definition between the ocean and the sky, I used a piece of vellum that I covered in Nuvo shimmer pen to mute the blue paper. To make sure both the background piece and the vellum piece were the same size and had that same great stitching, I used the Fancy Frames dies to cut them. I also used my copics on the island under the tree to show some definition between the two pieces.
I colored up this sweet little flamingo and sun, from the new Summer Vibin' stamp set, using my copic markers (specific colors are listed below). To add some finishing touches, I put Glossy Accents on his eye and floatie and also the sun's sunglasses. I cut the images out using my Scan N Cut.
Overall, this was an easy card to make. I hope you like it as much as I do!
---
Copics Used:
Flamingo:
Beak: W3, W1, W0 / N10, N8, N6, N4
Eye: C3, C1, C0
Feathers: RV34, R83, RV32, RV11
Legs: YR18, YR14, YR02, YR65
Floatie: N10, N8, N6 / C3, C1, C0 / RV25, RV14, RV23, RV13, RV21
Sun: YR18, YR14, YR02, YR65 / Y26, Y23, Y21, YR31 / N10, N8, N6
---
Supplies Used:
Some links below are affiliate links which means I'll earn a small commission from the retailer at NO EXTRA cost to you if you purchase from these links.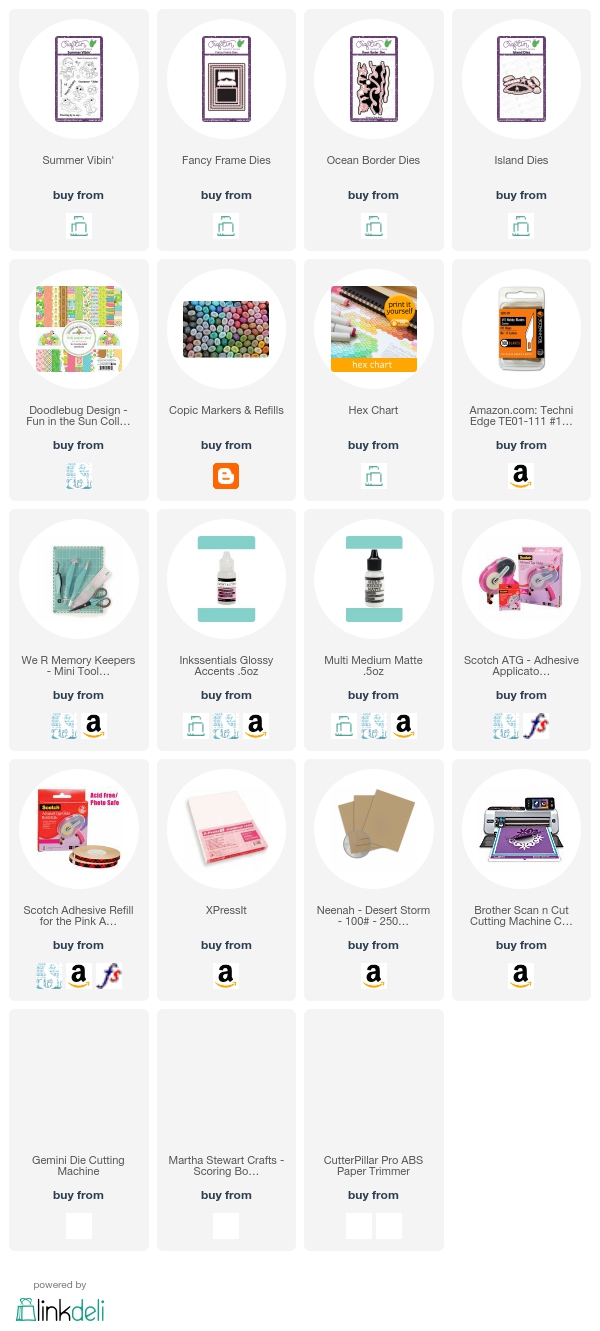 HUGS!
No commenting today, sorry...